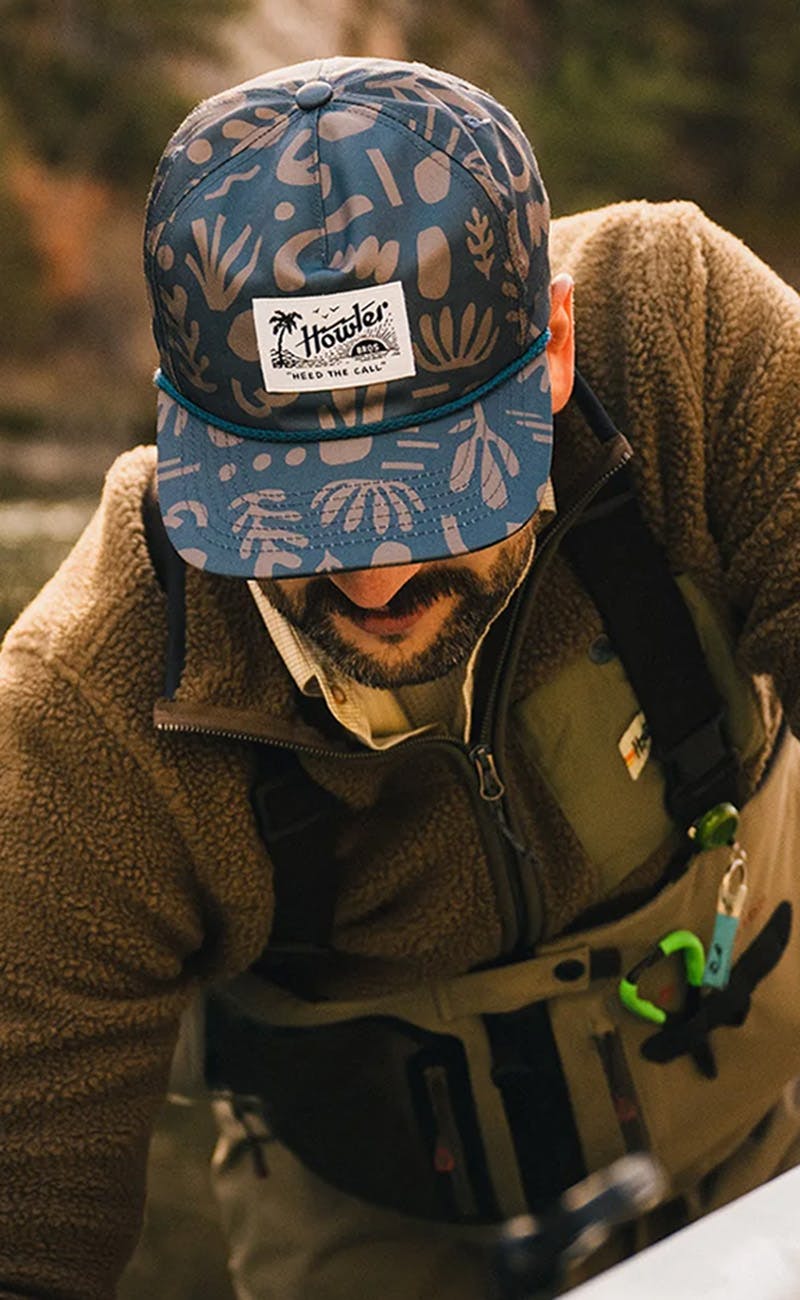 "Heeding the Call" with Howler Brothers
Howler Brothers
Born from the influence of music, surf culture, fly-fishing, and Western wear, Howler Brothers makes timeless apparel and accessories for any occasion. Whether walking around the block or surfing big waves, their product line is purposefully designed for folks looking to "Heed the Call."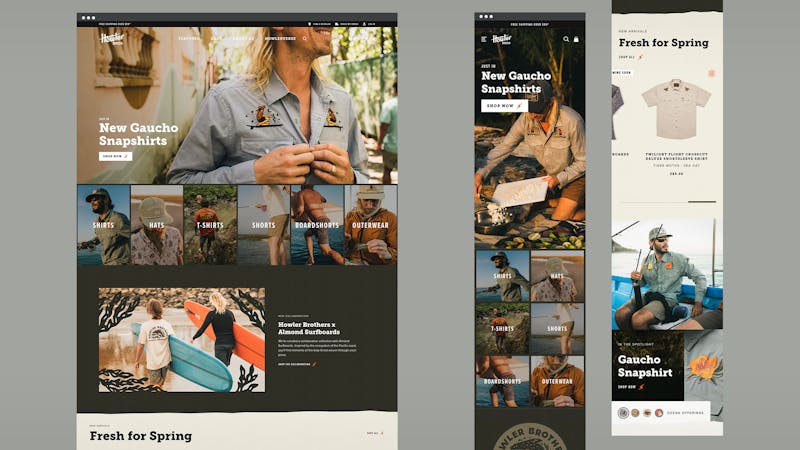 Challenge
Howler Brothers is a lively and vibrant lifestyle brand with a wildly passionate customer base. Filled with patterns, logo variations, changing color palettes, and frequent collaborations, the brand constantly offers new and exciting collections. Their previous site did not reflect the unique personality of the brand, making it difficult for users to shop the product line. ZaneRay's goal was to create an immersive and brand-forward ecommerce experience that not only captured the essence of the brand but also offered flexibility for their frequently changing artwork and product collaborations.
Approach
ZaneRay worked closely with Howler Brothers to fully understand their brand persona and lifestyle. Shopify Plus was a great platform solution that was chosen based on their requirements. Our goal was to create a new design system that leveraged reusable components to feature artwork and imagery in a way that fostered an emotional connection with their customers. These unique components made it easier to shop Howler's frequently expanding product line through an elevated interactive experience. Another priority of the new site was to incorporate video vignettes and animation throughout the shopping journey.
Intentional Design
To truly capture the unique essence of the Howler brand, our team utilized texture and subtle rough edges in the design system to give the site an organic look and feel. Incorporating looping video assets and animation also elevated the brand experience by bringing what were previously static images to life.

Flexible Components that Allow for Brand Storytelling
With Howler frequently collaborating on limited edition products, they required a flexible system that enabled their team to build out new pages on the site on the fly. Whether partnering with a local tiki bar, or a large outdoor brand, Howler Brothers needed a vast library of design options to tell each product's unique story. Our team created a variety of reusable components that could be interchanged organically throughout the site.
An Interactive and Unique Shopping Experience
Our team made it a priority to design shopping components that were both interactive and unique. We created an innovative banner solution that allows the user to explore product color options through lifestyle and studio imagery simultaneously. Another unique feature is the inclusion of hotspots in lifestyle galleries to create quick shopping paths to products.
Product Filtering
The existing Howler Brothers site did not offer filtering options for their expansive product line. When designing the new site, we determined that the category pages would require a variety of filtering capabilities while also maintaining a fully immersive shopping experience. The result was an expansive filtering system that can be toggled on or off as needed in an easy-to-navigate sidebar.
A Premium Product Experience
A large grid of product imagery with a full-screen zoom feature allowed for complete immersion into Howler Brothers' unique product offering. Our team utilized flexible components with lifestyle imagery and video to tell the story of each product. Incorporating CTAs to explore full collections and adding a cross-sell feature reinforced our "no dead ends" policy on the product detail pages.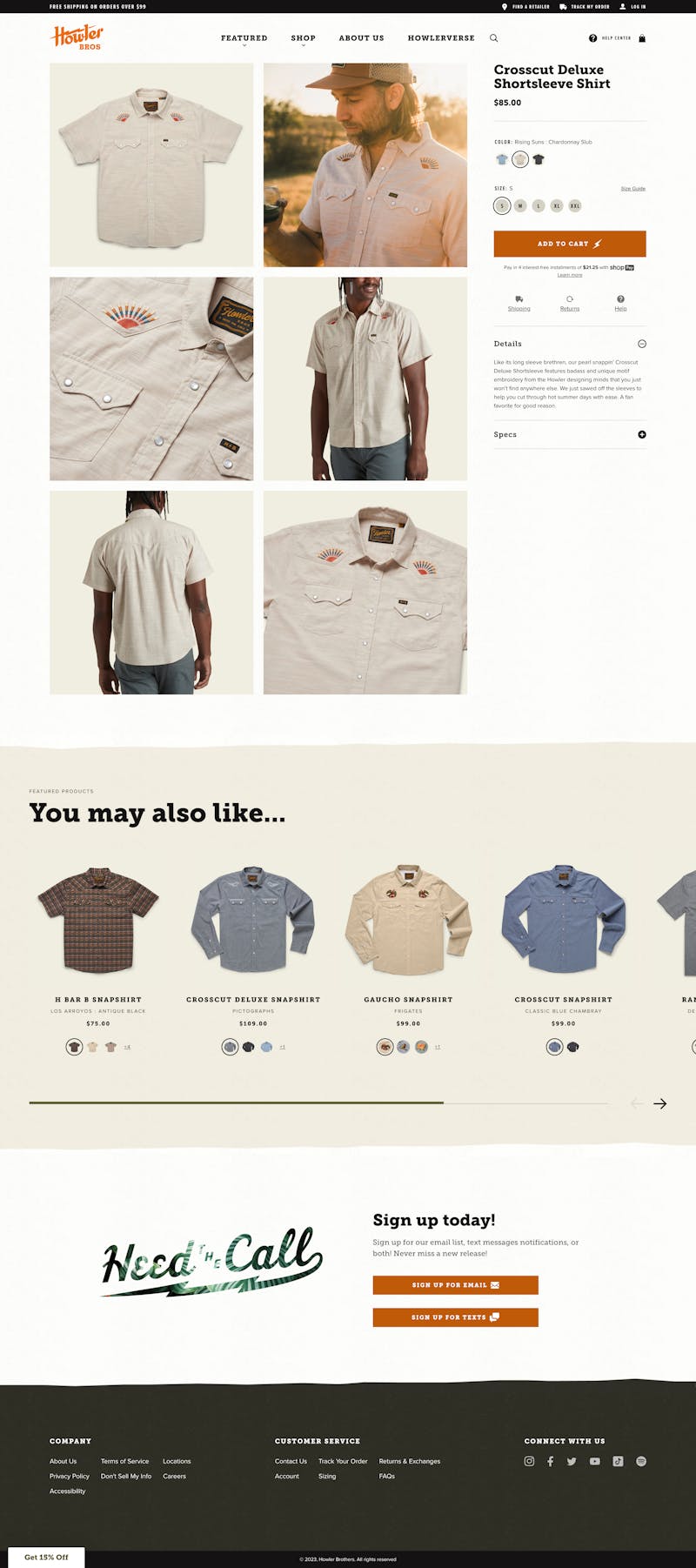 Success
The completion of the new Howler Brothers site was timely, allowing their team to launch their new spring collection using all of the new tools and systems. They are now able to merchandise, build out new pages, upload new content, and essentially manage their site fully, significantly increasing their marketing velocity and allowing them to move at the pace of 'Howler', which is similar to light speed. The stoke and the fun never stop, and that's how they like it.