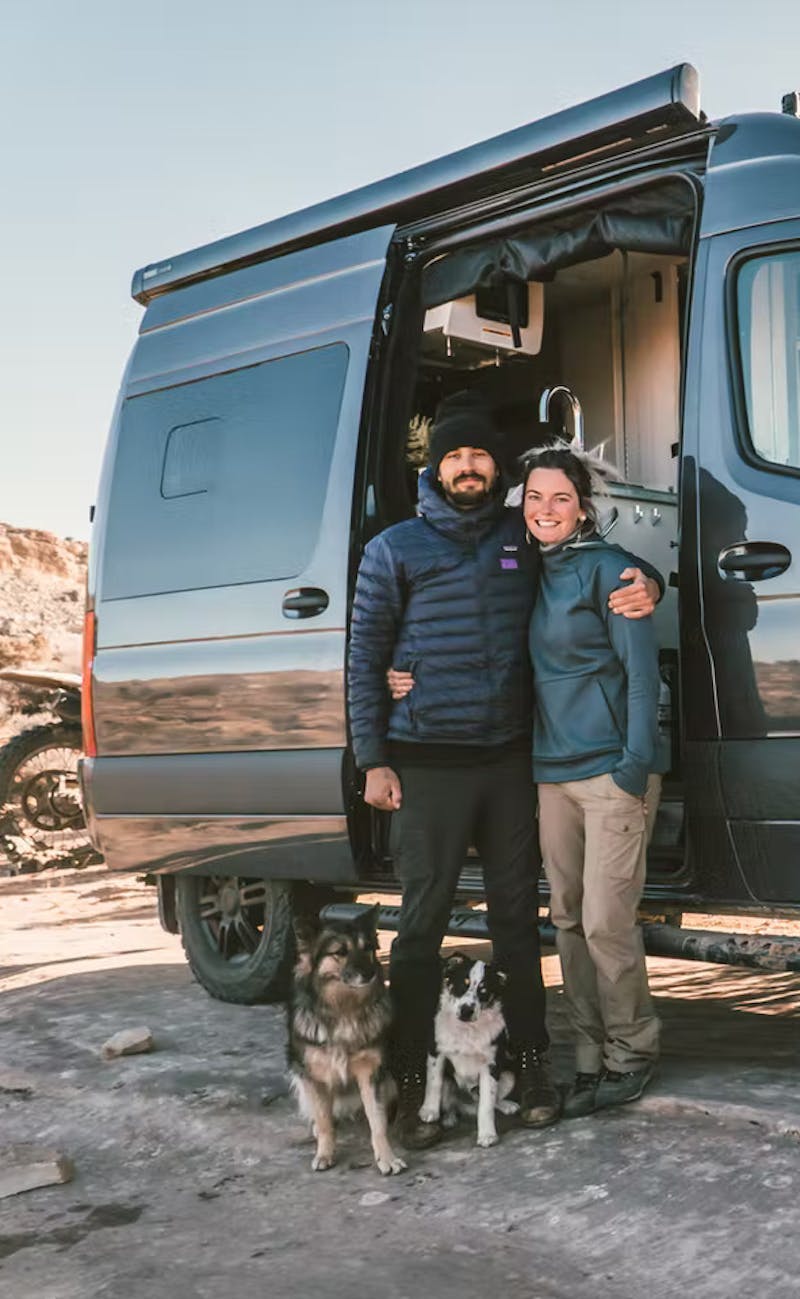 A premium site for a premium RV brand
Thor Motor Coach
Thor Motor Coach is the leading motorized RV brand in North America, offering the widest range of options for their customers of any RV manufacturer in the market today.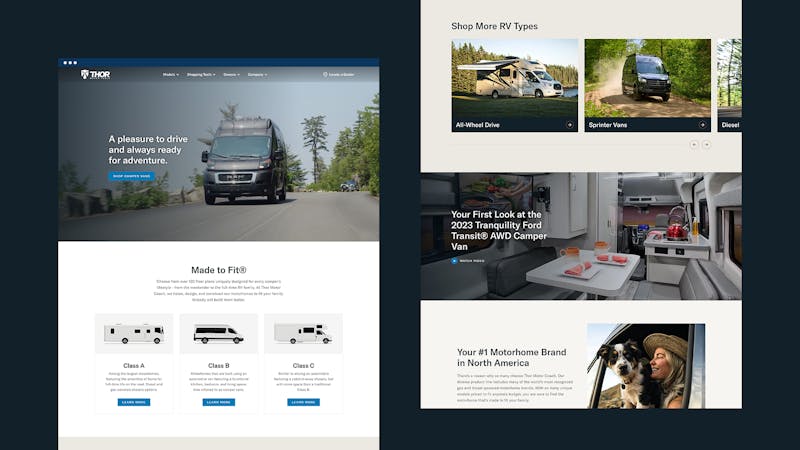 Challenge
Thor Motor Coach is a luxury brand made for customers who are seeking out a more premium RV experience. The existing Thor Motor Coach website did not support the type of brand experience that a customer would expect from a leading luxury RV manufacturer. Thor Motor Coach was looking to enhance the site by providing tools that allowed the customer to experience the RVs through a virtual tour and envision themselves within the RV lifestyle that comes with ownership of a Thor Motor Coach.
Approach
The Thor Motor Coach team was looking to add new tools and systems that would enable them to manage their website more directly and efficiently. That need, combined with the desire for a more premium brand experience and an integration with their lead generation service, influenced our recommendation for a headless site. A headless framework would enable their team to leverage a robust CMS and design system and create a rich user experience. This API-forward approach allows for more flexibility with existing and future integrations of business services.
Information Architecture
The site's information architecture prioritized customer needs and pain points during the RV buying process identified in early research. User flows were carefully crafted to consider the customer's level of RV experience and ownership. The navigation prioritizes natural product discovery and educating customers about different RV types, with the ultimate goal of placing them with a motorhome that perfectly matches their lifestyle.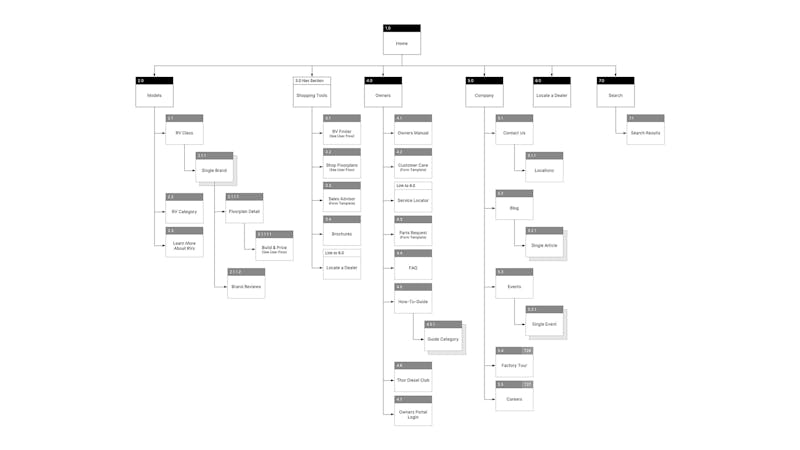 User Experience
With an extensive range of motorhomes, ensuring users could easily differentiate between models and floorplans was a key driver of the shopping experience. Various tools were implemented on the site to allow robust product comparison and filtering while considering lifestyle needs. Usability testing was conducted throughout the process to ensure product data presentation resonated with customers. The result was a seamless experience that directed users through the sales funnel in every part of the customer journey.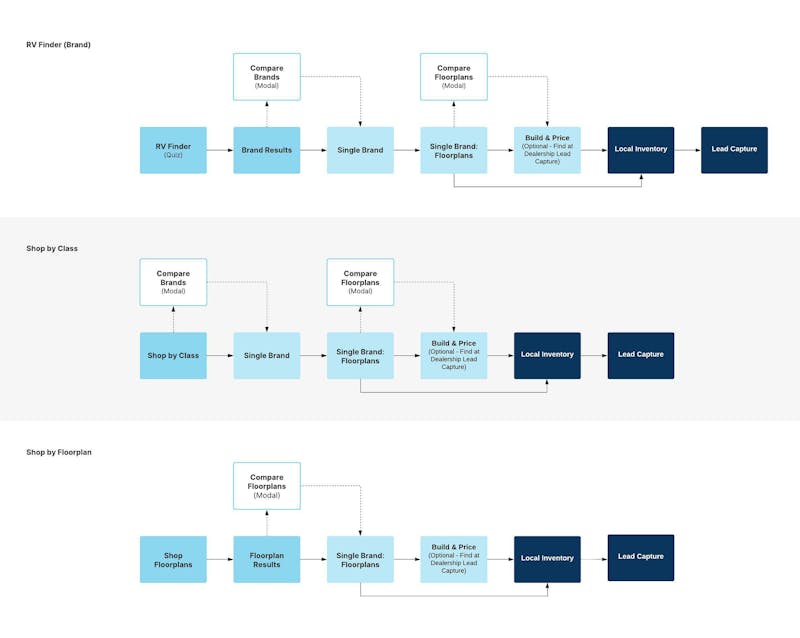 Design System
TMC's product lineup offers RVing with all of the amenities of a home, and their website needed an elevated shopping experience to match. A revitalized visual design language was created to reinforce Thor Motor Coach's brand story online. We established a refreshed typographic system, color scheme, and user interface that would be scalable for future site additions. Inspiring lifestyle photography was strongly considered in each component of the modular design system.
Single Brands
Reimagined model pages serve as a virtual tour for each RV, showcasing everything from technology features to interior decor options. Rich video content and image galleries capture a sense of adventure and help users select a model that best fits their lifestyle.
Shop Floorplans
Powerful filtering informed by usability testing distills the complex floorplan catalog into a highly shoppable experience. Users can browse by features such as class and fuel type to decide which floor plan is right for them.
Owners Guide
An in-depth guide was created to house an extensive library of video and blog content tailored to the RV lifestyle, ownership and maintenance.
Conclusion
As ZaneRay continues to work with the Thor Motor Coach team, we now have the right framework in place to enable our teams to efficiently operate the site as well as launch more inspired and robust RV model and brand pages as needed. There is more to come and we'll provide updates as this project continues to evolve.